The HBAGTA is partnering with members, educators, and state and local organizations to address the construction industry's labor shortage and to develop a skilled workforce for the future.
A collaborative effort that reaches policymakers as well as local educators, junior high and high school students is an effective way to address some of the issues that have contributed to chronic labor shortages and misperceptions of the industry.  HBAGTA members can help their communities grow and prosper, while educators and parents can direct their students toward meaningful employment and career choices.
With vocational programs removed from the schools, students who would otherwise be able to develop their interest and talents in the trade skills, leading to potential career paths within the construction industry are left out of the equation unless we can get them in time to develop the interest.  the HBAGTA is focused on being an active proponent of construction industry related education programs in our local community through program development.
COLLEGE CREDENTIAL CAREER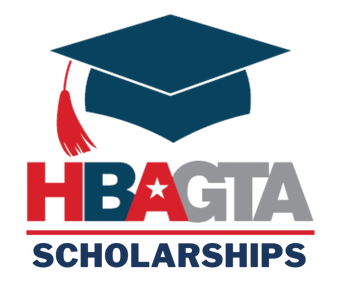 Fall Scholarships Now Open!
Scholarships are available to residents from Antrim, Benzie, Grand Traverse, Kalkaska, Leelanau, Manistee, Missaukee, and Wexford counties who are pursuing continuing education related to the residential building industry.
Application Deadline:  September 30, 2022
Our Efforts
The HBA Scholarship Dinner: Developed in 2015 to bring a greater awareness of the lack of skilled labor in N. Michigan and promote the skilled trades through education and scholarships. This plated dinner event brings nearly 300 community leaders together. 100% of silent auction proceeds fund scholarships for those who have chosen to make the trades their career choice. This year's event will take place October 7th. Click here for more information.
​Scholarships: For the past 37 years the Home Builders Association of the Grand Traverse area has awarded scholarships to deserving students where their field of study is related to the home building industry. Scholarships are awarded on an annual basis. Since 1984, 129 scholarships have been awarded, equaling $107,798.42 to NMC and its students. Click here to view our scholarship opportunities and applications.
School Outreach: Members of the Board of Directors and Education Committee meet with junior high and high school students, counselors and parents to promote the benefits of construction jobs as a viable career path. Contact the Home Builders Association office for speakers at 231-946-2305.
Apprenticeship Program: Under development, the HBAGTA has partnered with Northwestern Michigan College's Construction Technology Department and other state agencies to develop a formal apprenticeship program to include classroom and job site training.